Nancy Sevier Bardwell was raised in Tallulah, Louisiana. She graduated from Tallulah Academy May 1971 and went to Northeast Louisiana University. She then transferred to Louisiana College where she earned her Bachelors Degree in Elementary Education. She taught in Rapides Parish for 9 years and then Bossier Parish for 5 years after moving to Shreveport in 1988.
When Nancy moved to Shreveport in 1988, little did she know that she would be making difference in more than just the students' lives that she would be teaching. Her class was featured in the Shreveport Times newspaper 3 times for the accomplishments they were doing. For instance, her class was making their own books, had a Russian Pen pal, and even wrote a letter to the President of the United States. They were also on KTBS News for the Russian Pen pal and the President's letter they received in reply to their letters. Nancy was awarded the "Teacher of the Month" for March 1992.
In 1991, Nancy and her daughter became Professional Models for Oma's Fashion Agency. Nancy became one of the most requested petite models of the area. She even went to Atlanta, Ga. with the group of models as their director. She at times taught classes for Oma. January 1993, she made the cover of the then Shreveport – Bossier City area magazine, Spotlight. During this time she also worked with the area's malls as Director – Coordinator for the Fashion shows that were held. During her days of modeling, she also did several ads for Harrah's Casino of Shreveport and the "Walktoberfest" ad for the American Diabetes Association in 1994.
A few years ago, Nancy started a Barbie doll collectors' club. The club was featured on TV and newspapers for the community service they did. The Barbie club helped children here thru the VOA & Lighthouse. They also helped children in Belarus by collecting Barbie Dolls and Hot Wheel toy cars. These toys were sent to the children for the Christmas holidays. The Barbie Club received a letter from the President of the United States in 1998 for the community service they did.
She has been appointed Secretary of the local Elvis' Angels Fan Club. They support the Elvis Trauma Center in TN and the Make a Wish Foundation.
Nancy and other "Area Celebrities" can be seen visiting the hospitals and the VOA. While at the hospitals, they like to visit the pediatric and stroke floors. Nancy knows what it is like to be in the hospital and for children it is devastating. She is giving the stroke survivors hope, as she is a survivor of 2 strokes. One of which landed her in the hospital over the Christmas holidays 2000. Since this time, she has educated herself and hopes to help others by volunteering with the American Stroke Association. While doing so, she hopes to help bring stroke awareness to the public. She also wants to give other stroke survivors hope and show that there IS a tomorrow.
While Nancy was recuperating from her strokes and learning what to do to stay healthy, she entered several Pageants. Her first one was an online Pageant where she won the Ms. Classic Louisiana Beauty 2002 and Most Photogenic. Her first live Pageant was the All American Family Pageant that was held in Bossier City. She took home the title of All American Family North Louisiana Peridot Supreme 2001. She was also awarded Portfolio, Photogenic, Achievement, Best Christmas Fashion, and Overall Division Supreme.
During Nancy's reign, she has been mentoring a teen from this area through the La. Youth/Job Challenge Program. The two of them have become very close. Nancy has been teaching Cathy to drive. That's not something everyone would do with their new vehicle! Nancy has continued her support and mentoring. She can be seen at Petco on Saturdays helping the Louisiana Humane Society find homes for the animals and handing out bookmarkers on stroke awareness. She has been a key factor in the placement of over 400 animals just in the year 2004. Nancy also helps with the Elvis' Angels Fan club whose charity is the Make a Wish Foundation. Along with this, they also help the March of Dimes. Nancy has been named as one of the team captains for the "Angels" Fan Club. She has also been named the Shreveport Queen For A Day Director.
Nancy's platform is "Volunteerism, helping save one life at a time." She has many different organizations that she volunteers with. Among those are: March of Dimes, Diabetes Foundation, American Heart/Stroke Association, and the Volunteers of American. She will be sworn in as a CASA Volunteer on December 14, 2004.
Nancy has won the titles of All American Family N Louisiana Peridot Supreme 2001, Ms. Louisiana Classic Beauty, Mrs. Caddo Parish International, Ms. Louisiana Classic American Renaissance 2004 and 2005, Ms. Southern Belle International Beauty, United American's Woman of Achievement, Ms. Louisiana American Volunteer Woman, and Mrs. Louisiana Achievement Ambassador, Ms. Southern States Ambassador, Mrs. Central States International Achievement Ambassador, and now, Ms. American Volunteer Woman 2005.
Nancy says that being crowned the first Ms. American Volunteer Woman is a big responsibility, but she is ready for the job!! "This J-O-B isn't about me, Nancy, but the millions that I and others will be able to help. This gives me a national megaphone to help those that are less fortunate than I am. This crown and title has given me the key to open those doors and get the message out, my message of the importance of volunteering and the message of others. Along with getting out the message, I will also be promoting this system. By promoting this system, I will be showing and inspiring others to get out and volunteer as that is the mission of this system. I will lead by example and show others that they do have something to give to their communities! Education and inspiration is the key!!" She has inspired other to volunteer with her at the Humane Society and at her QFAD events and says she will get more to volunteer for other events in her community.
Scroll down below to see a list of Ms. American Volunteer 2005 Woman event and volunteer schedule appearances photos.

Event and Volunteer Schedule
November 2004
Nov. 30th - CASA
Deecmber 2004
Dec. 2nd - CASA
Dec. 4th - Louisiana Humane Society
Dec. 5th - MC at a pageant in Bossier City
Dec. 9th - CASA Swearing In
Dec. 11th - Louisiana Humane Society
Dec. 11th - Elvis party
Dec. 15th Louisiana Humane Society party
Dec. 31st - Elvis function
January 2005
Jan. 7th - Elvis Event
Jan. 8th - Elvis Event
Jan. 8th - Humane Society
Jan. 22nd - Humane Society
February 2005
Feb. 12 th - MC at a pageant
Feb. 26 th - Humane Society
March 2005
Mar. 5th - Humane Society
Mar. 12th - Humane Society
Mar. 26th - Humane Society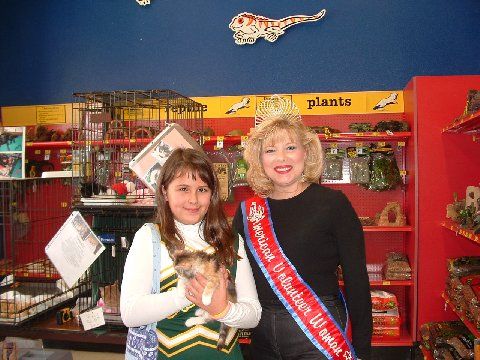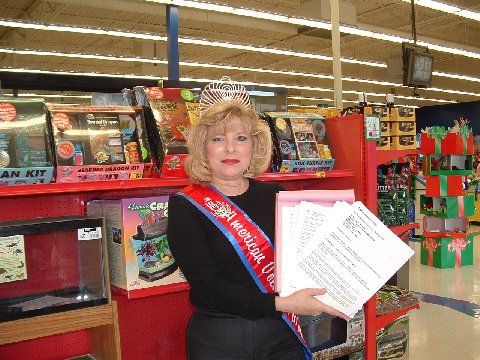 Above from Left to Right: Dec.4th -This puppy's name is St. Nick and found a great home today with these two beautiful girls!!! Dec 4th - This Kitty is Kali and found a great home today with this lovely young lady!!! Dec. 4th - Nancy with the email petitions and on the pink pad are more signatures from people coming in the store (PETCO) and signing. One lady was from Spain that signed -- this petition is for Coco and Sash, 2 dogs that was set on fire as a "prank" by teens.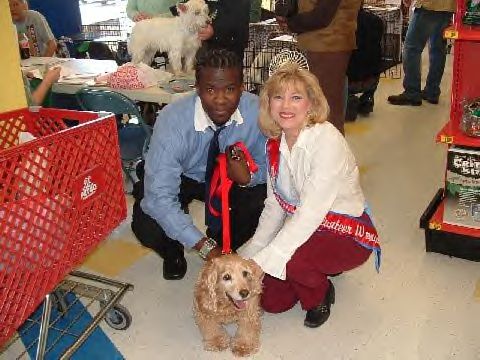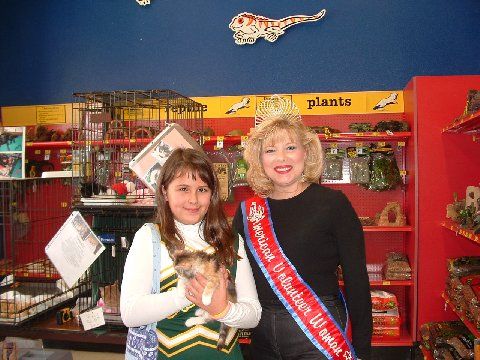 Above from Left to Right: Dec. 5th - Nancy the MC at a paegant in Louisianna. (Photo 2 & 3) Dec. 11th - At Petco with newly adopted pets and their new parents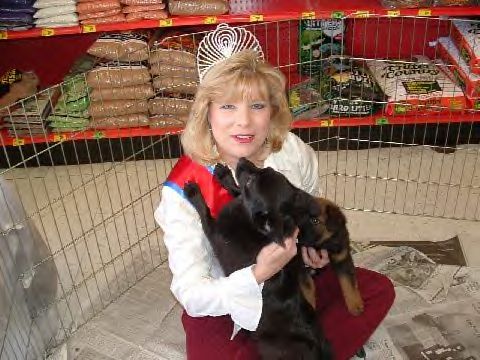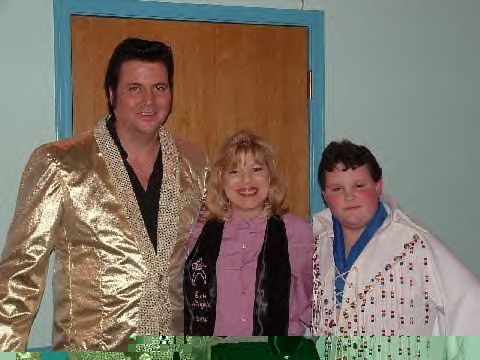 Above from Left to Right: Dec. 11th - Ms. AV Woman 05 in the pen with 2 dogs, one is trying to give her "kisses". Dec. 11th - With 2 Elvis at the Elvis' Angels Christmas Party and they both preformed for us!!!